Loans are a necessity in today's world – there's no doubt about it. Acquiring something new or investing in your future can rarely go without some loan applications.
However, if you're not in the world of loans – it could become a bit confusing. There are so many different types of loans out there. What is the best loan for you?
Lucky for you, we are going to discuss all the relevant types of personal loans and business loans below. So, continue reading to learn about different types of loans!
What does it mean to take a loan from a licensed money lender?
Getting approval for a loan can take more than a few days – it can take over a month. So, you can wait a long time from filling a loan application to the loan's disbursement.
Getting approved for a loan from a bank is a rather tedious process. That is why licensed money lenders come in to fill the need for instant loans – business or personal.
The whole process is rather simple – first, you apply for a loan with the licensed money lender. In a few days, you will receive the approval notification and your funds will arrive shortly. After that, you should follow your repayment plan until you close out the loan and that's it!
Moreover, you should consider the following factors before you take out a loan:
Personal/business credit score and the repayment capacity

All the financing options available

Other fees

Interest rates

Loan length

Loan terms

Down payment
Getting out a loan can be helpful for either professional or personal needs, and the reasons vary. Most commonly they are:
Unexpected bills or costs

Moving/relocation costs

Renovation/remodeling

Purchase of business or personal appliances

Debt consolidation

Financing personal or business vehicles

Wedding costs
How much money can you borrow from a licensed moneylender, and at what interest rates?
The amount of loan you can get approved for depends on your yearly income.
Singapore citizens and PRs earning less than $10,000 annually can get approved for up to $3,000. Foreign citizens earning less than $10,000, however, can get loans up to $500.
On the other hand, if the annual salary falls between $10,000 and $20,000, the maximum loan amount is $3,000. The same amount applies to Singapore citizens, PRs, and foreigners.
For those earning $20,000 and over, the loan amount isn't fixed. Generally, the borrower can get approved for up to 6 times their monthly income.
As for the interest rates, there aren't many fixated  rules. The maximum interest rate any moneylender in Singapore can charge is 4% a month. The capped interest rate of 4% applies to all borrowers, no matter what their annual income is.
The capped interest rate applies to unsecured and secured loans. For borrowers that fail to repay their loan on time, the licensed moneylender can charge up to 4% late fee for each month the borrower is late.
Now that we have discussed what loans are about and how they may come in handy, it's time for you to get a better understanding of the different loan types. Here, we share 11 types of loans that consumers and businesses may need.
1. Personal Loan

A personal loan is money a person borrows from a bank, online lender, or a credit union, which they pay in fixed monthly installments. Personal loans are unsecured, so there are no consequences when the person is not able to pay the loan back. This type of personal loan is the best for various personal needs – whatever that requires some extra funds.
However, if the person breaches the terms of repayment, it will ruin their credit score in the end. A bad credit score means that the borrower is less likely to get a loan in the future.
Personal loans are short-term, unsecured loans, so they have a repayment period of 12 months. The annual interest rate for personal loans is 1% to 4%, and the maximum lump sum an individual can receive is $10,000 – generally a small amount.
2. Credit & Payday Loan
Payday loans, also known as credit loans, are considered a last resort to the emergency cash crisis. This type of loan enables the person to get instant funds to cover some unexpected expenses, so it's helpful for various emergencies – business or personal.
Payday loans are best for people that cannot get credit from traditional lending methods. The credit history of the person asking for a payday loan can be less than ideal, and even then, you can get a cash advance! Also, payday loans are unsecured loans, associated with fast approval, so you can get the money almost immediately.
The maximum amount for a payday loan is capped at the amount of six times the monthly salary of the person asking for the loan. The high-interest rates go around 1% to 4% monthly, and the credit loan is a short-term loan, with repayment in less than 12 months.
3. Wedding Loan

Weddings can get rather expensive, and getting out a wedding loan can be the perfect solution for your dream wedding. Wedding loans are perfect for those that want a grand wedding, but lack the funds!
You can borrow a maximum amount of six times your monthly salary. With creative budgeting, you can even extend the loan to get the honeymoon you well deserve!
The interest rates for wedding loans are 4% reducing interest rates – so you can pay off the loan easily. The repayment period for a wedding loan is short-term – 12 months.
4. Debt Consolidation
Keeping track of all your small loans can be a hassle. The payment can be due on different days and you can easily miss a payment if you're not very careful. This is the exact reason why people opt for debt consolidation loans.
A consolidation loan is used to close off all other loans, so you can only pay one rate every month. Consolidation loans are desirable because they come with lower interest rates and lower rates so that you can increase your credit score and overall financial stability. Focusing on one loan is the best – it's more convenient and more sustainable in the long run.
For loan consolidation, you can get approved for a lump sum of 6 times your monthly salary. You will need to repay the short-term loan in 12 months with an interest rate of 1% to 4%.
5. Fast Cash Loan
Fast cash loans are commonly used for emergencies and generally, unexpected expenses. Fast cash loans are approved quickly, and they are used to improve your financial situation immediately. This is the perfect small loan to ask from lenders if you are a foreigner or have a bad credit history because it's not a secured loan.
The fast cash loan is a short-term loan, so you will need to figure out your monthly credit payments in a way that you pay off the debt in 12 months. You can borrow a maximum loan amount of six times your monthly salary. The interest rate for a fast cash loan is 1% to 4% reducing interest per month.
6. Business Loan

Business loans are exclusively used for business purposes, for cases when a certain company doesn't have the finance funds available. The business loan can be secured or unsecured, but placing collateral, or a mortgage, can help the borrower borrow more money from the lender. Also, unsecured loan types come with higher interest rates.
An unsecured loan comes without collateral, so if the borrower defaults, the lender has no options on how to get the money back. With the secured loans/home equity loans, the collateral can be used as the last resort to repay the loan.
A mortgage is always a better loan to borrow because the credit repayment is simpler in the end. Also, you can get up to $5,000,000 with this type of loan. The interest rate is low at 1% to 4% and the long-term loan should be repaid in a longer period of time – 5 years.
7. Grab/Gojek Loan
A Grab/Gojek loan is a loan for drivers of the private car hire companies Grab and Gojek. Grab and Gojek are a great option for those who enjoy driving. However, when the car breaks down you are not able to continue earning money as usual, and the repairs can be rather costly.
That's why Grab/Gojek loans exist in the first place! Other great options for how to use the Grab/Gojek loans are buying a new car (auto loans), rental fees, medical emergencies, and vacation time. The maximum loan amount depends on the income of the applicant.
What is so great about Grab/Gojek unsecured loans is that the interest rates are extremely low – from 1% to 4%. The pay-back time is flexible, but the loan ought to be repaid in 6 months.
8. Renovation Loan

Home renovations, especially sudden renovations can cost a lot of money. Many people don't have that amount of cash on hand, so unexpected home renovations can be challenging to fund. For these purposes, you may apply for a renovation loan, a secured, home equity loan.
Secured renovation loans are used to improve your property or home. Many people opt for personal loans in this case, but home renovation loans come with lower rates in general. A home equity loan is better for the borrower and the lenders because the collateral can cover the debt, like the mortgage.
The maximum amount of money you can get for a renovation depends on the renovation costs and the resale value of the property once the renovations are completed. The interest rate is 1% to 4%, and the debt has to be paid off within 3 years.
9. Medical Loan
Medical loans are a subtype of the personal loan, and they may be taken out to finance emergency health expenses because some health insurance plans don't cover complete care. Also, medical loans can be taken out to cover infertility treatments, prescription costs, and so on.
Many cosmetic treatments and surgeries are not covered by health insurance – so, taking out a medical loan can help you get the credit you need for it. You can get approved for the maximum amount of 10 times your monthly salary. The rates range from 1% to 4%, and the debt has to be paid off in no more than 5 years.
10. Bridging Loan
When you're buying a new home, the logical order is to sell your home and buy your new one. However, that is not always possible – especially if you've come across a great new home and haven't sold your house just yet. That's where bridging loans come in, with the interest-only payment plan!
The bridging loan can be approved for as high as 25% of the purchase price of the new property. That is, as long as the worth of your old property is enough to acquire the new one! Bridging loans consist of collateral – so they are secured loans.
The interest rates for bridging loans go as high as 4% annually. You may get approved for the maximum amount of $5 million, with the terms of the loan saying you need to pay it off in 5 years.
11. Study Loan

Study loans are taken out for financing college and university fees. The borrower is investing in their future, and to do that – they need to go to a recognized, high-quality university. Tuition can be rather expensive, which is why many people opt for a study loan to help if they don't have the cash available.
The highest interest rate for a study loan is 4%, and you may get approved for up to $250,000. The repayment plan consists of 96 monthly payments. These loans are unsecured, so no collateral.
Bottom line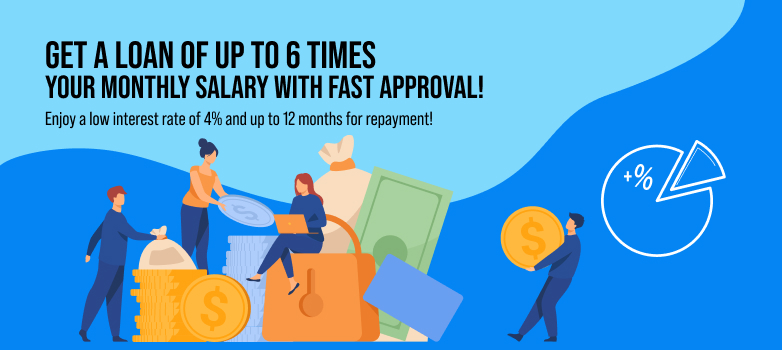 To conclude, there are various types of loans out there. There is no universal type of loan that is just perfect for you – it depends on your needs for extra funds. What is truly important about loans is to figure out the repayment plan long before you take out a loan!
After that, it's time to look for a licensed moneylender – and a trustworthy and reputable one, at that. Consider UK Credit, licensed with the Registry of Moneylender – Ministry of Law.  At UK Credit, you can get a loan of up to 6 times your salary with approval granted within minutes. What's more, you usually have up to 12 months for repayment at a low interest rate of 4% per month! Visit the website to find out more about the loans that they offer.